Frequently Asked Questions
General information
About artwork
We understand that many of our customers invest a lot of time and effort in their playlists and that includes the artwork, not just the tunes. By artwork, we mean both the "sleeve" artwork of the individual tracks and the image attached to a playlist as a whole.
Retaining artwork when moving playlists between platforms throws up some significant technical challenges. We've invested much time and effort trying to ensure that Playlisty gives you the best possible experience, read on if you'd like to learn more.
Track Artwork
Let's say (like us) you've spent many hours creating a playlist on Spotify getting everything just right. And by just right we don't just mean the right tracks in the right order, we mean that when you selected New Order's "Blue Monday" you didn't just pick the first mix you came to but instead carefully picked the one with the "correct" floppy disk cover art.
Let's say you've then used a tool to copy that playlist over to Apple Music and your Blue Monday artwork gets translated to a fluorescent "Best of the 80's" album cover. You'd be disappointed, right?
Well over the last year we've invested a lot of time & effort in Playlisty trying to keep that kind of disappointment to a minimum. Here's how:
First of all, wherever possible we match using the album or EP (which is usually associated with artwork) as well as the track itself. So when you match with (say) Spotify you are getting the same track from the same album, not just the same track.
If an album or EP isn't available to match against but there are still a number of different covers for Playlisty to choose from, Playlisty uses a complex algorithm to try to ensure you get the "best" artwork. For example we always avoid "best of" albums and compilation albums where possible and instead try to pick singles or original artist albums.
Sometimes things will still look odd, often because (Spotify, we're looking at you) we get given the "wrong" album by a music service. We try to correct these situations where possible, so if (for example) there are 5 tracks from album A and 1 track from album B even though that track was also available on album A, we'll use the album A version instead.
Having said all of this there are some caveats which are worth bearing in mind:
Playlisty will NEVER swap one track for another for the purposes of optimising artwork if it will result in a different audio file, so your playlist will always sound as it should. Sound always takes priority.
Playlisty WILL choose tracks with "inferior" artwork if they have improved audio variants (e.g. lossless, Apple Digital Master or Dolby Atmos). It will also favour tracks which include song lyrics over those that don't.
Finally, bear in mind that sometimes the exact track you want just isn't there in Apple Music. In those situations there's only so much that Playlisty can do.
Playlist Artwork
Unfortunately Apple don't currently provide any means for apps such as Playlisty to associate artwork with a playlist in Apple Music. Technically it's just not possible: the only way to associate artwork with your playlists is by using the iOS or macOS "Music" app.
However, we've done what we can to make the manual process of moving artwork from one service to another as easy as possible.
Specifically, while you are in the Library view in Playlisty, you can long-press on playlist artwork and Playlisty will give you the option to save the artwork straight to your photo album.
It's then easy to pick this from your photo album when adding artwork to a playlist within the "Music" app.
It's a bit clunky but until Apple give us an API for artwork we're afraid it's the best we can do!
I've heard I can use Playlisty to get access to my Apple Music "Loved" tracks. How?
If you are used to Spotify you will probably be used to the functionality it offers where "Liking" a track causes it to get automatically added to a "Liked Songs" playlist.
At the time of writing, no such functionality exists on Apple Music and if you "Love" an Apple Music track and forget to also add it to a playlist or your library, there's no easy way to find the track again. If you've already "Loved" hundreds of tracks before realising this it can be very frustrating.
Luckily there is a workaround. It's easy, but it does take a bit of time while you wait for Apple to do their thing. This is how you do it:
Log-on to https://privacy.apple.com using the Apple Id that you use for Apple Music (this is very important – if you use different Ids for Apple Music & iCloud)
Select "Obtain a copy of your data" and then "Apple Media Services information". Then "Continue".
Choose a maximum file size (the minimum of 1Gb should be fine) and then "Complete request".
Wait. For a day or two. Or three. Keep checking back here: https://privacy.apple.com/account to see if your file is ready for download.
Once it is ready, download your file (it is called "Apple Media Services information.zip") and unzip it (easiest on a Mac or PC).
Next, find the file "Apple_Media_Services.zip", unzip it and then open the folder "Apple Music Activity".
Find the file "Apple Music Likes and Dislikes.csv" and put it somewhere where Playlisty can open it e.g. on a Mac leave it in the Downloads folder; on an iPad or iPhone, put it somewhere on your iCloud or DropBox drive.
Open Playlisty, select the "Files" tab and add the "Apple Music Likes and Dislikes.csv" file. Hit "Next…" and let Playlisty do the rest.
Sorry if that sounds complicated – it really is not, but you do have to wait a while for Apple to get your data together. Hopefully a future version of Apple Music will make this all unnecessary.
Installation
What are the pre-requisites for running Playlisty?
To install & run Playlisty you will need:
To be running iOS 15.4 or MacOS 12.6: Unfortunately we use some of the latest Apple APIs, which weren't available before these versions.
An Apple Music subscription with iCloud Music Library switched-on.
What is "Sync Mode" and why do I have to enable it?
If you enable "Sync Mode" you are allowing the Music app to store your library in the cloud rather than just locally on your device. If you have multiple devices connected to the cloud they will all share the same library, so if you add a track on one device, within a few seconds all your other devices can see it too. So there's no need to sync your devices any more – they stay up to date automatically. It's magic.
But what if some of your devices don't have enough room to save all of your tracks? Apple have thought of that: when a device downloads your library it doesn't download any of the tracks themselves. It just downloads the "metadata" – the data about what tracks you have (including your playlists) which uses only a tiny amount of memory. You can then either choose yourself which tracks you want to download for offline access or let your device decide for itself. Either way you should not run out of memory. It's very clever.
Downsides? Well, if all your devices have different stuff on them it is all going to get added to the cloud when you enable Sync Mode, which means that there's sometimes a bit of sorting-out to do afterwards e.g. some duplicates. But apart from that, there really aren't any downsides.
What does all this have to do with Playlisty?
The answer is that for a playlist to contain an Apple Music track it MUST be in the cloud. If you have a local "non-cloud" playlist you simply can't add Apple Music tracks to it. It's a rule.
Which means that if you want to copy any playlists to Apple Music, however you do it you are going to need "Sync Mode" switched on.
I just installed on a new device and tried to restore my purchase. It didn't work!
Please select the section which applies to you:
I purchased playlisty pro on a mac and I'm having problems restoring on an iphone
Unfortunately we've been seeing this issue quite a bit recently and have escalated it to Apple. They accept that the issue is on their side: there seems to be a "break" between the macOS & iOS app stores at the moment.
Luckily a few weeks ago one of our customers found what looks like an easy fix:
"To fix the issue I've gone through the purchase process again on my iPhone, and as it is a non-consumable IAP there was no second payment"
I should stress that we can't test this fix as we haven't been able to reproduce the issue ourselves, but dozens of other customers have told us that it works and if you do get charged (very unlikely) you should be able to request a refund from Apple.
Everyone else
If you get this problem, the first thing to check is that the Apple ID you are logged-in with is the same as (or has access to, via family sharing) the account with which you purchased Playlisty. It sounds obvious but we've made that mistake ourselves.
If the Apple ID looks correct then the most likely reason for a restore not working is that Apple's servers are too busy and the request is failing at their end. So the next thing to try is simply waiting a bit – an hour or two ought to be enough – and then trying again.
If that doesn't work, you might want to consider the "repurchase" method mention in the section above (note: if you've purchased "Pro" you should not get charged again).
If it still doesn't work, contacting Apple is probably your next best step. Playlisty just uses the standard Apple mechanisms for in-app purchases and whenever we've recommended that customers call Apple in the past, they've always managed to resolve it.
However we know from experience that the first couple of things that Apple recommend are 1). A reboot of your iPhone, and 2). To sign-out & of Media & Purchases on your iPhone, reboot and then sign back in again, so this is probably worth doing before you call them.
Why doesn't Playlisty work on a child's account & how can I work around this?
Unfortunately, Apple doesn't allow third party apps such as Playlisty or Amazon Alexa to connect to accounts that are set up as "Child" accounts within a family sharing group.
If you want to get some playlists from a child's Spotify account and save them to their Apple Music account, you therefore need to go through a few steps:
Install Playlisty on an adult's device and link it to the child's Spotify account. If Playlisty is already installed and pointing to another Spotify account you will need to delete / re-install it.
Tip: if you have set up custom playlist sources you may want to go in to "Settings" and save them to a file before deleting.
Import the relevant playlists to the adult's Apple Music account.
Share the playlists from within Apple Music (see https://support.apple.com/en-gb/guide/music/mus140a2e93/mac).
The child user can then access the shared playlists and link / copy them as required.
Sharing
How do I "Share" a playlist from another app such as Safari?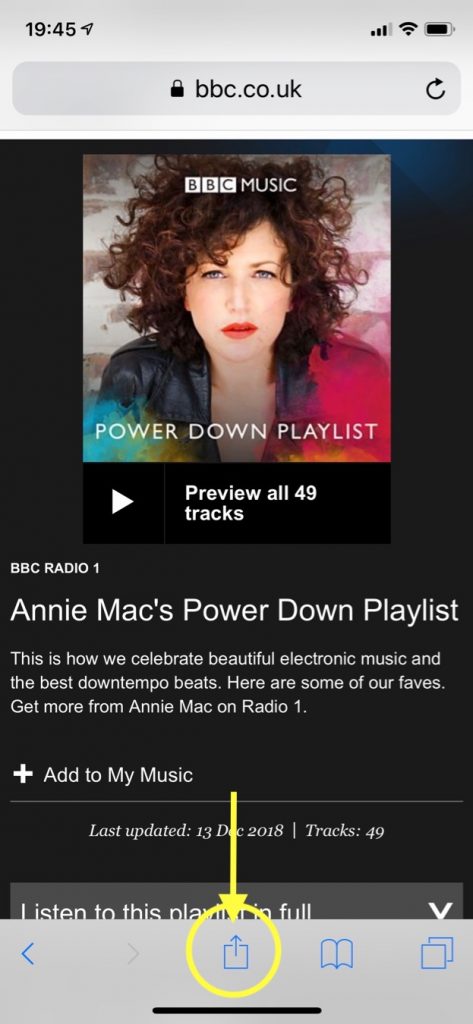 Look for the share icon, and then press it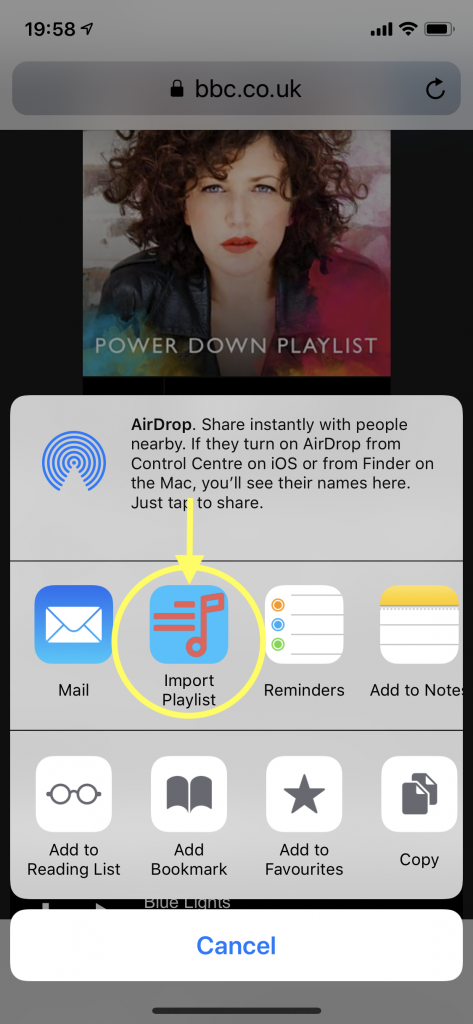 Select "Import Playlist" or "Playlisty" from the list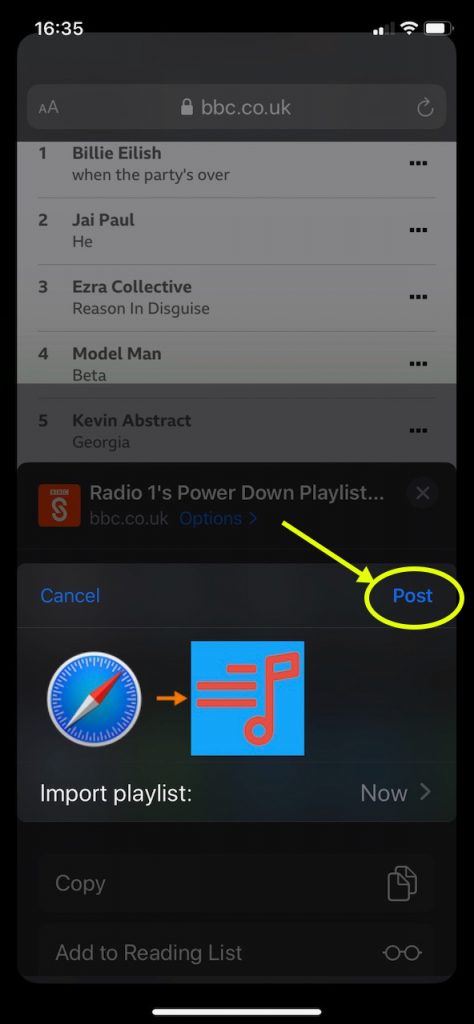 When the Playlisty "Share Extension" pops-up, hit "Post", and then head over to the Playlisty App.
I can't find how to "share" in Spotify…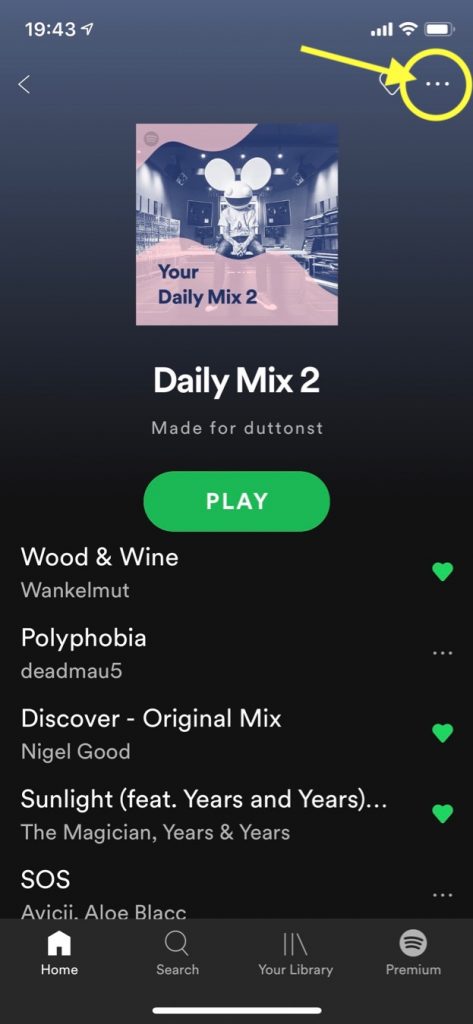 Playlisty only works with playlists, not albums or individual tracks, so first of all make sure you are looking at an actual playlist on-screen and can see some of the tracks you want to export. Next, see those 3 dots in the top left corner? Tap them.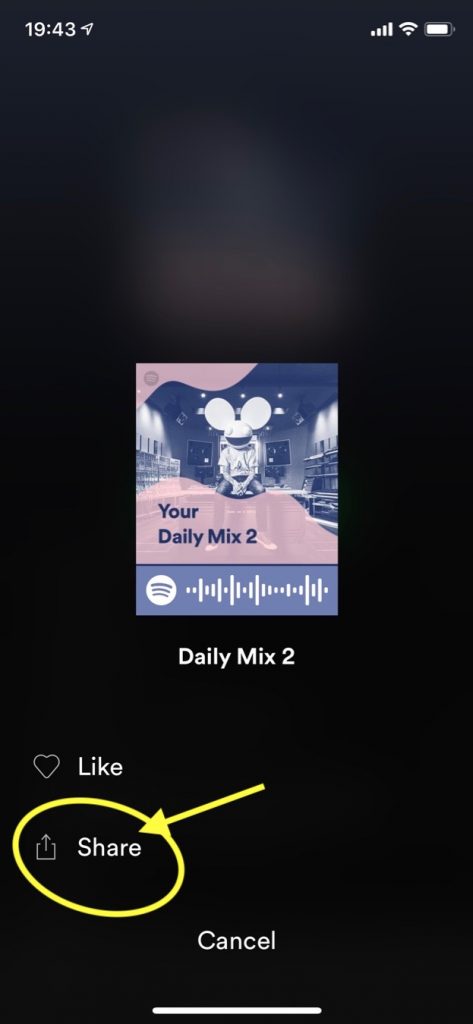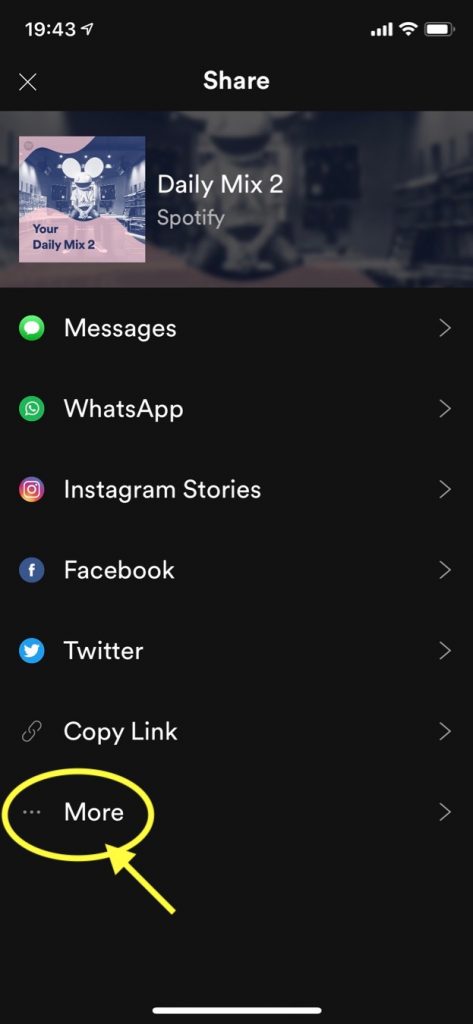 And now "More" (we're nearly there, honestly)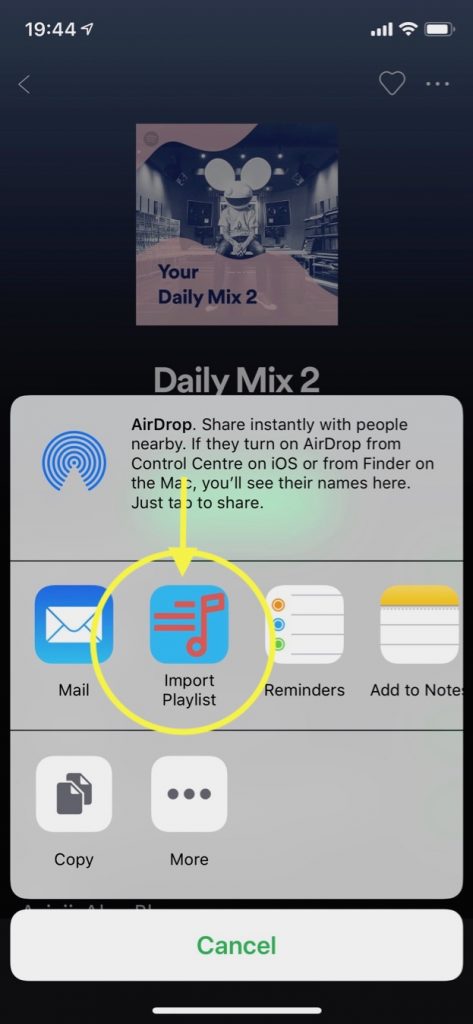 And now, finally, tap Import Playlist. Is the Icon missing? You can add it by scrolling right, selecting "More". Find "Playlisty" on the list you see and turn it on. You might want to move it near to the top as well. See "I've hit the "Share" button but Playlisty isn't there!" for what this looks like.
I posted a playlist from the "Share" button but nothing happened…
By default, when you hit the "Post" button your playlist gets saved. It will get picked-up as soon as you start the "Playlisty" app. This is the way that Apple says it's supposed to happen.
In case you find this laborious and would prefer to go straight to Playlisty when you hit the "Post" button, there's a switch (at the bottom, under the Post button). If you change this from "Import Playlist -> Later" to "Import Playlist -> Now" then the Playlisty app will start as soon as you hit "Post".
I tried importing a Podcast/Web-page and it didn't work…
There are a couple of reasons why a playlist sometimes won't be immediately recognised:
Most commonly, there isn't a full playlist available on the URL you've shared (Podcasts have URLs too). If you have the URL, try pasting it into a web browser and see if you can see the playlist. In quite a few apps, when you hit "Share" they give a URL with incomplete data (Spotify – limited to 30 tracks) or nothing much useful at all (Deezer, and web pages that use images for playlists or lots of JavaScript). Obviously if there's no playlists there, Playlisty can't do anything about it. The exception is actually Spotify: Playlisty is a registered Spotify app and talks directly to Spotify's servers to get the information it needs.
Sometimes there's a playlist there but despite its advanced pattern matching technology, Playlisty just can't find it. It's worth cutting and pasting just the playlist text itself (without all the other text on the page) into the app – often that will work when sharing the whole page did not. If there's a page you use a lot and it's not working, please send it to us and we'll try and get it working in a future release.
If all else fails, you can see the playlist but Playlisty simply won't recognise it, try pasting it into a text file and try and clean it up a bit yourself. If you can get it in:
format you can be sure it will be recognised.
I've hit the "Share" button but Playlisty isn't there…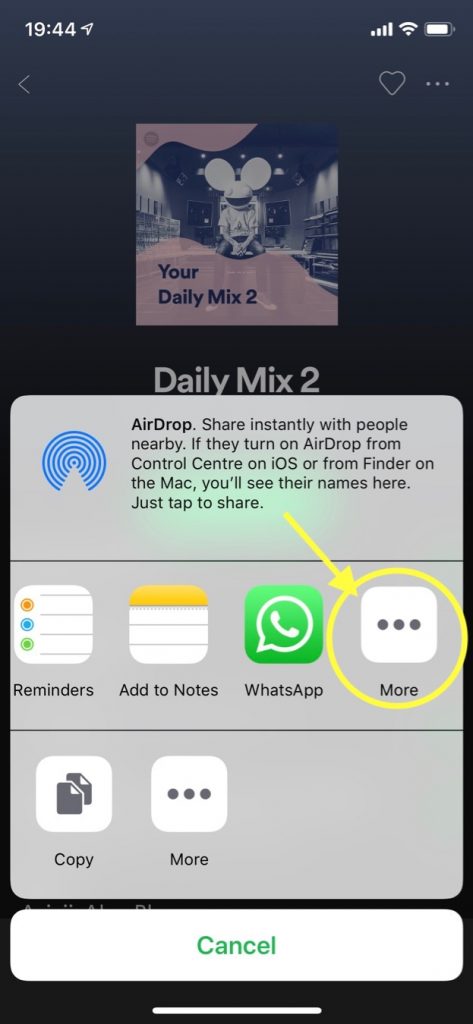 Scroll to the right hand end of the list of "Share Extensions", and select "More".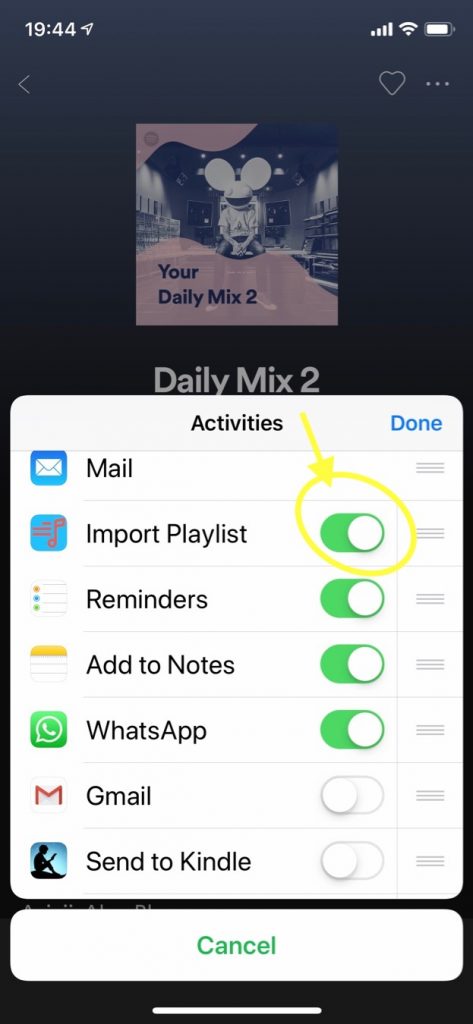 Scroll down the list until you find "Playlisty", and then turn it on. If you want to save a bit of time it's worth moving it nearer the top of the list as well – this will make it quicker & easier to find.
I've selected the Playlisty "Share" icon but I'm not getting a playlist. I'm getting nothing/garbage instead…
If Playlisty couldn't find a playlist at a URL you shared with it, but it did find some text, it will show you the stripped-down text that it received in the hope that you can clean it up a bit and try again. This is best done by cut/pasting it into a text editor and then pasting it back when cleaned-up. Better still, save it as a text file on your iCloud/DropBox/Google drive and open it in Playlisty from there.
By cleaned-up we mean as close a possible to a list of lines, each containing "Track name – Artist name" (or the other way around – it doesn't matter).
If you want to know more take a look at the "I tried importing a Podcast/Web-page and it didn't work…" section.
Matching
Lots of my tracks are failing to match
The most likely reason is that you are importing classical music. Unfortunately there are so many additional factors involved in getting a perfect match (Orchestra, Conductor etc) that partial matches are as good as you can hope for on most classical tracks.
The other common reason why you might not get a match is that the track simply isn't available in Apple Music yet.
If you think Playlisty has missed a simple match with a track you know is there in Apple Music, please send us details using the form below, and we will try to fix it!
You say you support YouTube. I just tried it on my YouTube Music account and lots is missing!
Unfortunately YouTube & YouTube Music are not the same thing, although currently Google do not provide a way to access YouTube Music data except though YouTube (or more specifically the "YouTube Data API").
What does this all mean?
It means that sometimes you won't be able to see some of your YouTube Music playlists in Playlisty. And sometimes you will be able to see them but they take hours or days to appear after you create them.
It also means that very frequently when you try to import a YouTube Music playlist in Playlisty it will not be able to match some or many of the tracks.
This is because much of the data about your tracks (e.g. the artist) gets stripped off as it goes through YouTube because, for example, "artist" is not a data field for YouTube videos.
We really hope that Google fix this soon.
Saving
Playlisty says it has finished but my playlist is missing (or partially missing)!
This is because when Playlisty creates your playlist(s) it creates them in the cloud and (usually) it takes a little while to sync back to your device. There's nothing you or we can do to speed this up – be patient and your playlists should be there in a few minutes.
You can check they made it to the cloud by looking at the Apple Music web site, here: https://music.apple.com
How does the "Add to existing playlist" function work?
Say there's a playlist that gets regularly updated on an external service such as SoundCloud or Spotify. The Spotify "Discover Weekly" playlist is a good example.
Suppose you want a playlist in Apple Music that gets updated with any new tracks that appear in your Spotify "Discover Weekly".
That's what the "Add to existing playlist" (aka "Add Mode") function is useful for: each time you import "Discover Weekly" with Add Mode switched-on, instead of simply creating a new playlist (e.g. "Discover Weekly (2)") Playlisty will compare the Spotify version of "Discover Weekly" with the version in your Apple Music library and it will add any new tracks to the end.
Also, if you don't want to have to remember to do the sync every week you can setup a Siri Shortcut to do this for you, using the "Add to Siri" button on the final "Save" screen, and then creating an "Automation" in the Apple shortcuts app. For more details on how to use Playlisty within Siri Shortcuts, click here.
What's the difference between "Save to library" and "Save to playlist"?
"Save to playlist" does what it says: it saves the tracks you've selected to a playlist.
"Save to library" will not save the selected tracks to a playlist. Instead it will save them to your cloud library and you'll be able to see them by looking in Library -> Songs. Note that there is no specific order for "Songs" – you can sort them into whatever order you want.
Generally if you are not sure which you want, choose the Playlist option. If you later decide that you want to add them to your library this is easy to do after the event using the Music app itself.
What's the difference between "Save to new playlists" and "Save to your library 'as is'"?
"Save to new playlists" will save whatever playlists you've selected to new playlists, including your "Liked Songs" and "Liked Albums". Or in other words:
Playlists -> Playlists (with same names)
"Liked Songs" -> a "Liked Songs" Playlist
"Liked Albums" -> a "Liked Albums" Playlist
If you are not 100% familiar with Apple Music then choose this option – it is simplest to understand, and if you want to move the tracks in a playlist to your library at a later time it's easy to do in the Music app.
"Save to your library 'as is'" will save Playlists as Playlists but will transfer Liked Songs & Albums (if selected) direct to your library. Or in other words:
Playlists -> Playlists (with same names)
"Liked Songs" -> the "Songs" section of your library
"Liked Albums" -> the "Albums" section of your library
This will copy your Spotify library (for example) over to Apple Music in the way which is closest to how you see things in Spotify.
Advanced
Why would I use a cloud drive to store playlists?
Click here to see how to import playlist files from DropBox, iCloud or Google Drive in Playlisty.
Can I import entire albums?
Click here to see how to import a list of albums, not tracks, in Playlisty.
How do I use Playlisty with Siri Shortcuts?
Click here to see how to use Playlisty within Siri Shortcuts.
How to use Playlisty to import FROM your Music library TO your Music library
Click here to see how to import from your Music library to your Music library.
About Playlisty "Replace Mode"
Since the earliest days of the iPhone, Apple has only allowed 3rd party apps to do 2 things to your playlists: 1) Create them, and 2) Add new tracks to them. That's it. No deleting of playlists, no removal of tracks or amending the order, no updating of playlist names or descriptions. And definitely no artwork.
It's been that way for 15 years and over that period we developers have given Apple plenty of feedback that that we'd like to do more.
Well starting with iOS16 & iPadOS16, we can: Apple introduced a couple of new functions at WWDC22 which finally allow us to amend some of the attributes of playlists, including descriptions and (crucially) tracks.
Being able to truly mirror the contents of a playlist from a service such as Spotify to an equivalent Apple Music playlist is one of our most commonly requested features, the idea being that you could simply run a sync each week and any track deletions, order changes or new additions on the Spotify side would automatically be reflected on the Apple Music side.
The Playlisty team have been working hard since the WWDC announcement in June to make this possible, and the result is a new kind of sync called "Replace Mode".
This is a big change and rather than giving it to everyone at once we are making it available to users on an "experimental" basis, starting with Playlisty v2.24. This means that:
We don't claim it works in all scenarios and if it doesn't work for you, please let us know about it ASAP (please don't expect that we'll immediately know how to fix it!). The new mode won't do anything horrible to your music library or playlists but the occasional crash is a real possibility and you might get the occasional error.
If you do get an error, please wait a bit and try again before contacting us. Most errors are related to syncing between your device & the cloud; waiting 15 mins or so usually resolves them.
It won't work on old playlists. Apple actually gave us new functions to create playlists, as well as amend playlists, and the new amend function will only work on playlists that were created with the new create function. In practice this means that "Replace Mode" only works on playlists which were created with Playlisty 2.24 or later and when "Replace Mode" was switched-on in settings at the time.
The author of any playlists you create this way will be "Playlisty" by default, although you can override this in Settings.
The progress bar while saving playlists is gone. The new methods from Apple don't give us a way to track progress so unfortunately there's nothing for us to show you.
Honestly most of the time we find this new feature works pretty well. And once you've successfully created a "Replace Mode" playlist we rarely have any further problems with that playlist: subsequent attempts to update these playlists usually go smoothly. We hope that's true for you too.
---
Contact Us
If your issue isn't covered by our FAQ, please don't hesitate to contact us. You can also email us directly using the "Contact Us" button on the Playlisty preferences screen.
Also, if there's a web page, app or podcast you'd like us to support in Playlisty please get in touch using the form below and send us the details (including URL if possible). We'll do our best to add it to an upcoming release