Frequently Asked Questions
Sharing
How do I "Share" a playlist from another app such as Safari?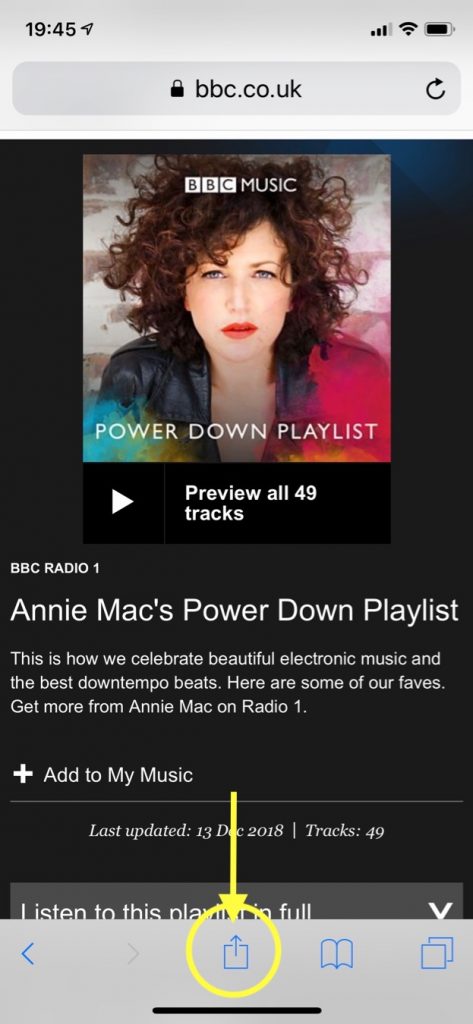 Look for the share icon, and then press it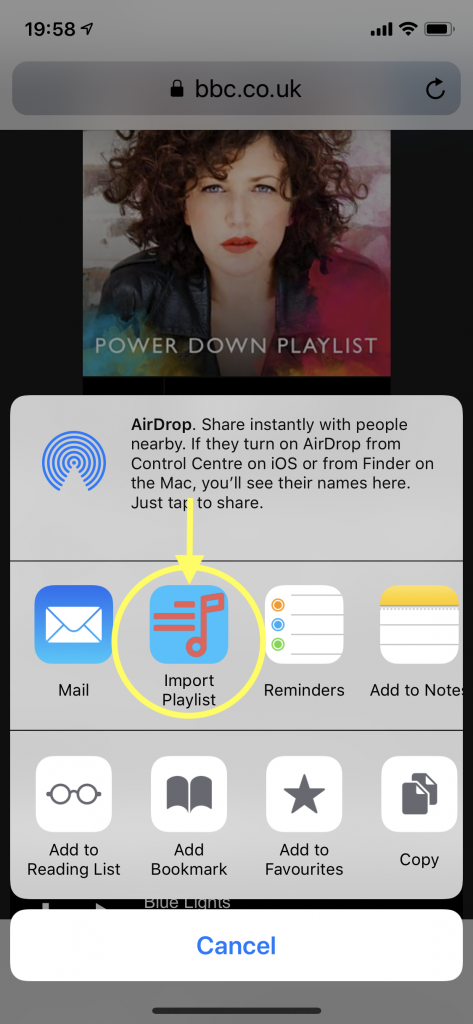 Select "Import Playlist" or "Playlisty" from the list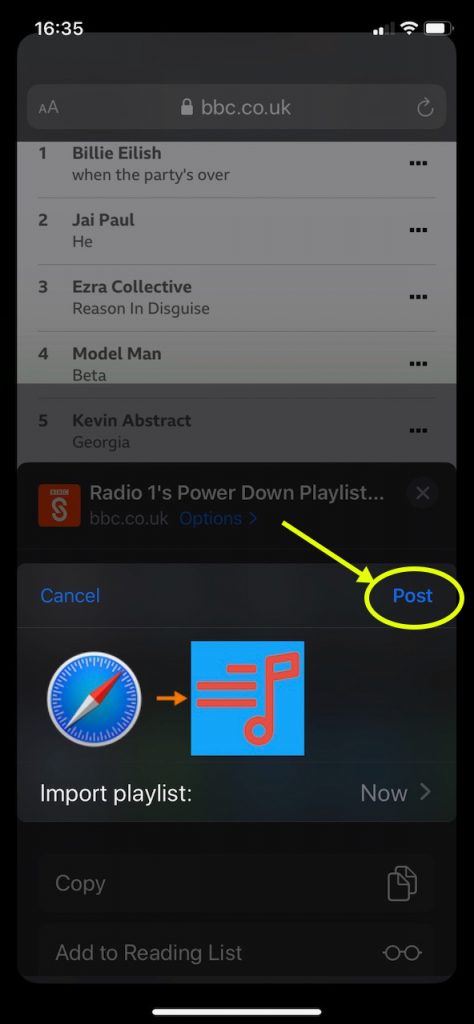 When the Playlisty "Share Extension" pops-up, hit "Post", and then head over to the Playlisty App.
I can't find how to "share" in Spotify…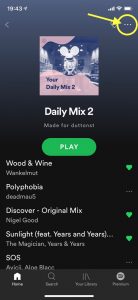 Playlisty only works with playlists, not albums or individual tracks, so first of all make sure you are looking at an actual playlist on-screen and can see some of the tracks you want to export. Next, see those 3 dots in the top left corner? Tap them.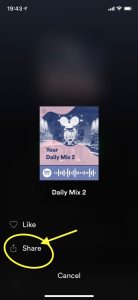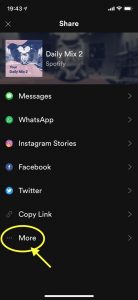 And now "More" (we're nearly there, honestly)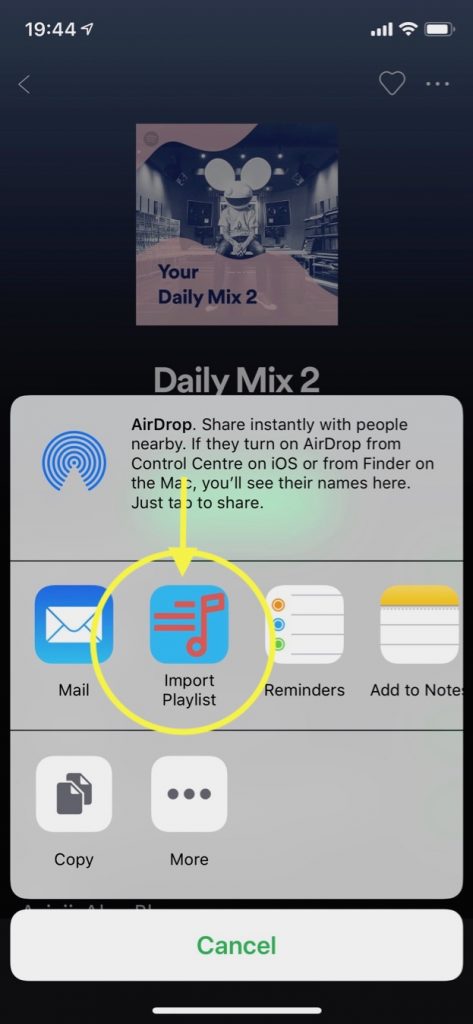 And now, finally, tap Import Playlist. Is the Icon missing? You can add it by scrolling right, selecting "More". Find "Playlisty" on the list you see and turn it on. You might want to move it near to the top as well. See "I've hit the "Share" button but Playlisty isn't there!" for what this looks like.
I posted a playlist from the "Share" button but nothing happened..
By default, when you hit the "Post" button your playlist gets saved. It will get picked-up as soon as you start the "Playlisty" app. This is the way that Apple says it's supposed to happen.
In case you find this laborious and would prefer to go straight to Playlisty when you hit the "Post" button, there's a switch (at the bottom, under the Post button). If you change this from "Import Playlist -> Later" to "Import Playlist -> Now" then the Playlisty app will start as soon as you hit "Post".
I tried importing a Podcast/Web-page and it didn't work…
There are a couple of reasons why a playlist sometimes won't be immediately recognised:
Most commonly, there isn't a full playlist available on the URL you've shared (Podcasts have URLs too). If you have the URL, try pasting it into a web browser and see if you can see the playlist. In quite a few apps, when you hit "Share" they give a URL with incomplete data (Spotify – limited to 30 tracks) or nothing much useful at all (Deezer, and web pages that use images for playlists or lots of JavaScript). Obviously if there's no playlists there, Playlisty can't do anything about it. The exception is actually Spotify: Playlisty is a registered Spotify app and talks directly to Spotify's servers to get the information it needs.
Sometimes there's a playlist there but despite its advanced pattern matching technology, Playlisty just can't find it. It's worth cutting and pasting just the playlist text itself (without all the other text on the page) into the app – often that will work when sharing the whole page did not. If there's a page you use a lot and it's not working, please send it to us and we'll try and get it working in a future release.
If all else fails, you can see the playlist but Playlisty simply won't recognise it, try pasting it into a text file and try and clean it up a bit yourself. If you can get it in:
format you can be sure it will be recognised.
I've hit the "Share" button but Playlisty isn't there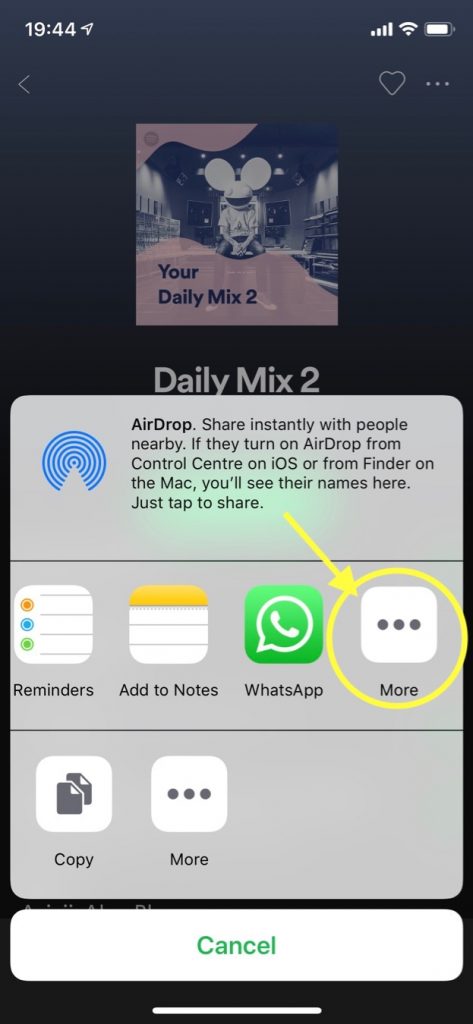 Scroll to the right hand end of the list of "Share Extensions", and select "More".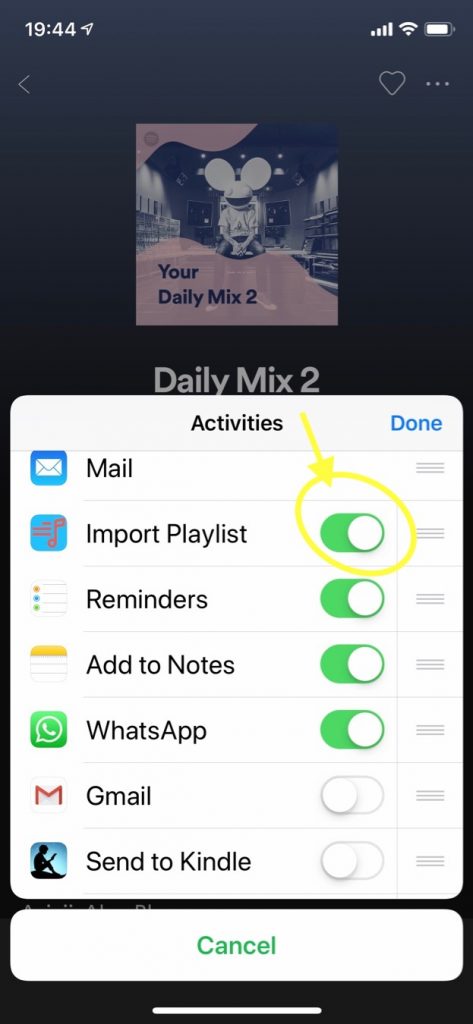 Scroll down the list until you find "Playlisty", and then turn it on. If you want to save a bit of time it's worth moving it nearer the top of the list as well – this will make it quicker & easier to find.
I've selected the Playlisty "Share" icon but I'm not getting a playlist. I'm getting nothing/garbage instead…
If Playlisty couldn't find a playlist at a URL you shared with it, but it did find some text, it will show you the stripped-down text that it received in the hope that you can clean it up a bit and try again. This is best done by cut/pasting it into a text editor and then pasting it back when cleaned-up. Better still, save it as a text file on your iCloud/DropBox/Google drive and open it in Playlisty from there.
By cleaned-up we mean as close a possible to a list of lines, each containing "Track name – Artist name" (or the other way around – it doesn't matter).
If you want to know more take a look at the "I tried importing a Podcast/Web-page and it didn't work…" section.
Matching
Lots of my tracks are failing to match
The most likely reason is that you are importing classical music. Unfortunately there are so many additional factors involved in getting a perfect match (Orchestra, Conductor etc) that partial matches are as good as you can hope for on most classical tracks.
The other common reason why you might not get a match is that the track simply isn't available in Apple Music yet.
If you think Playlisty has missed a simple match with a track you know is there in Apple Music, please send us details using the form below, and we will try to fix it!
Installation
What are the pre-requisites for running Playlisty?
To install & run Playlisty you will need:
To be running iOS 14.4 or MacOS 11.1: Unfortunately we use some of the latest Apple APIs, which weren't available before these versions.
An Apple Music subscription with iCloud Music Library switched-on.
Advanced
Why would I use a cloud drive to store playlists?
Click here to see how to import playlist files from DropBox, iCloud or Google Drive in Playlisty.
Can I import entire albums?
Click here to see how to import a list of albums, not tracks, in Playlisty.
How do I use Playlisty with Siri Shortcuts?
Click here to see how to use Playlisty within Siri Shortcuts.
---
Contact Us
If your issue isn't covered by our FAQ, please don't hesitate to contact us.
Also, if there's a web page, app or podcast you'd like us to support in Playlisty please get in touch using the form below and send us the details (including URL if possible). We'll do our best to add it to an upcoming release